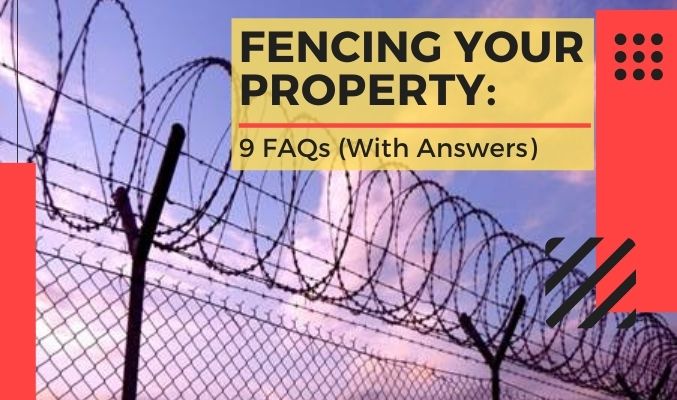 Fencing Your Property: 9 FAQs (With Answers)
20 Jan 2021
Posted By S K Weldedmesh
Maybe you want more security… Or maybe it's just for the aesthetic purpose. The point is that you want to fence your property.
Now the task isn't as simple as it may look. It is much more than just finding a good fence manufacturer, hiring a contractor, and getting things done.
So, naturally, property owners have several questions in their mind before undertaking this task.
In this post, we answer 9 of the most frequently asked questions that people have about fencing their properties.
1. Can I put a fence around my property?
Ideally, yes, you can put a fence around your property. However, this is something you must check with your local laws and ordinances. At times, in certain places, this is not allowed without proper permission from the local authorities. This is especially true if you're planning to install an electric fence.
Recommended Read: 8 FAQs (Answered) About Electric Fence
2. Does a fence increase property value?
Although it depends on the kind of fence we're talking about here but, in general, having a fence around your property certainly increase property's overall value. So, if you're planning to sell your property, you should take some extra measures to increase its valuation, including investing in fences.
3. What is the cheapest type of fence to put up?
Different fence manufacturers have their own pricing strategy. So, the answer to this question is with the fence company you're dealing with. But usually, chain link, barbed wire, and bamboo fences are considered to be relatively affordable. It's worth noting that price should always be secondary to purpose. For instance, wooden fences might be affordable but if you're fencing for security purpose, can they provide you with the needed security? NO! So, always prioritize your needs over price when buying a fence.
4. How much is it to put a fence around your house?
As mentioned earlier, different fence manufacturers have their own prices. To that, the fencing contractors who would install the fence, their charges vary as well. So, there's no objective answer to this. Also, of course, the size of your property, as well as various other factors, would influence the cost of fencing your house. So, to have an estimate, connect with a fence company or contractor.
5. Do fence installers check property lines?
Some may, some may not, depending on the extent of their services. After all, it's not their responsibility to stick to the property line. What you would say, they would follow. So, the onus falls on you. Whether they do check property lines or not, you must do it yourself. Check the existing documents and do a basic survey to find the property line.
6. How to find fence property lines?
Check the property plan survey map and property deed. Locate the corners. These will help you find property lines. But if that doesn't work, consider getting in touch with a professional surveyor. They can do this more accurately.
7. How to fence property?
A lot of factors come into play, like the type of fence you're installing, the purpose, the size of the property and more. In any case though, it's best to have it done by professionals instead of opting for DIY. For example, if you're fencing your property for security reasons, you want it to be done in the best possible way that's foolproof. Can you do it? Likely not! Can a professional do it? YES.
Recommended Read:
  a. Fence Your Property: A Quick (7-Point) Checklist
  b. How to Install Chain Link Fence?
8. Fence is not on property line – what to do?
This can result in disputes with the neighbors. In many such cases though, these disputes can be settled rather easily. However, in case if your neighbor is making a fuss out of it, the most important thing to do is to stay civil. Next, find out if you have indeed stepped out of the line and what the local law says about this. If you're at fault, consider hiring a mediator to resolve this dispute. If this doesn't work out either, you can hire an attorney and even file a lawsuit.
Or, on other hand, you can accept your neighbor's arguments, take off the existing fence, and install a new one that's on the property line.
9. How to find a good fence company?
This demands a bit of research work on your end. It will take some time. But then the effort is worth it to ensure superior quality fence and fence installation service. We have covered this topic in separate posts. Please check out:
  a. How to Find the Right Fencing Contractor?
  b. How to Find the Right Type of Fence (That Provides Max Utility)
These are 9 frequently asked questions from people who want to fence their property.
Have more questions? Please get in touch with us today.