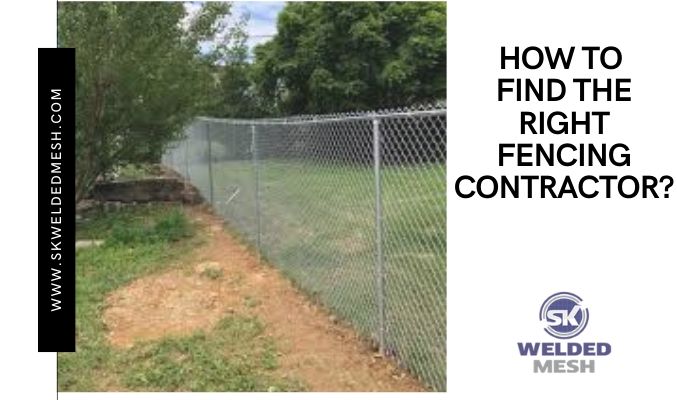 How to Find the Right Fencing Contractor?
16 Jun 2020
Posted By S K Weldedmesh
There are many fencing contractors out there; you can pick any. However, if you're looking for someone that cares about quality just as much as you do, it calls in for some research work.
Finding a good fence company isn't difficult. But in that process, you certainly must heed to some key factors. After all, it matters the security of your property – and all those people on that property. In all, you want maximum protection. So, ensuring the installed fence is the best is essential.
Here are 3 tips to find one of the top fencing contractors:
1. Identify your exact needs- Yes, you want to fence the property. But that's a very broad requirement. Narrow down. What kind of fence are you looking for? What kind of property are you fencing? What is your budget? Is the fence to protect the residents within or simply to put off the rovers? Different people have different, unique needs. What's yours? When you know what exactly you're looking for, you're more likely to find that. Lack of clarity and outlined objective would inevitably lead you to the wrong (and expensive) decision. So, define your exact need or requirement.
2. The reputation of the company matters atop- Out there, you will discover many fencing contractors. While they would all make grand offers, their market-wide reputation would vary. And that's what you should consider atop. A good reputation is an evident sign of the contractors' track record and quality of work. So, check out their websites, read their reviews and testimonials; see what kind of projects they have worked on previously. If you can get the contact details, consider calling their previous customers, and get feedback. Plus, call these contractors from the front and talk; see how the communication goes. In the end, settle for someone that's reputed and has extensive experience of working on projects like yours.
3. Prioritize cost a little less- Of course, price is an important consideration. But then that doesn't mean you over-prioritize it, weighing it over even the quality of the fence. Understand that this is a long-term investment; you're not going to change it anytime soon. You want the best fence that's strong and sustainable; the fence that has anti-climb, anti-cut, and anti-rust properties. So, don't go after a fence company because it offers the cheapest solution. Go after the one that prioritizes quality above all – even when their pricing is slightly higher. As long as you're getting good value for money – and you're assured of maximum security on the premise – be open to pay more.
Conclusion
As mentioned, it isn't difficult. But if you're looking for quality – which you must – you shouldn't get reluctant either. Become an informed decision-maker when picking a fence company. Know what you want, audit the reputation and offerings of the fencing contractors, and weigh quality above all. Again, it matters the security of the property. Plus, it would also be a considerable investment. So, you don't want a misstep here.