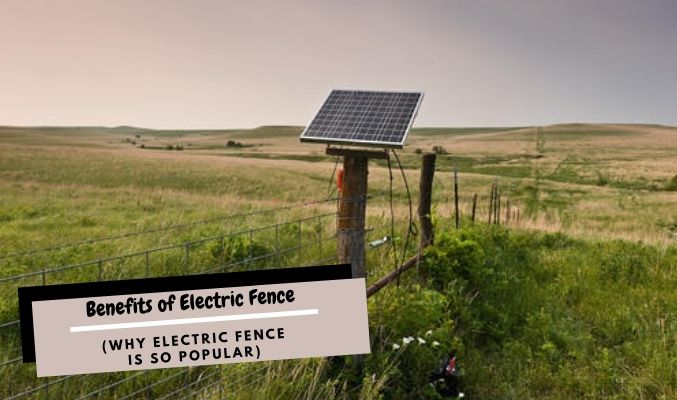 Benefits of Electric Fence (Why Electric Fence is So Popular)
23 Sep 2020
Posted By S K Weldedmesh
Electric fence is a great choice to thwart off any intruder. And when deployed with other security solutions like CCTV cameras and PIR beam sensors, which sets off an alarm if any unwarranted movement is detected, the electric fence creates an almost impenetrable security cover that assures people within maximum protection.
To that, the fact that while these fences are adequately robust, they aren't necessarily lethal, which counters the basic argument of the detractors.
Recommended Read: Installing Electric Fences: Is It Safe For Your Kids and Pets?
Part of the Green Movement
There are various benefits of electric fence that has made it quite a popular choice – right FROM for those who need higher security on the property TO those livestock farmers who want to control their goats.
In recent times, the solar-powered fence has become more popular in particular. And it's not a surprise really. With the world becoming more environment-conscious and opting for greener resources, solar-powered fences that use renewable energy fits perfectly well. So, if you're a part of the green movement, which you should, this could possibly be the biggest appeal to go for electric fence.
Is It Expensive?
There's a common misconception that electric fence is expensive. In reality, it could be relatively affordable given it requires fewer materials and less time to install. A lot depends on the electric fencing company you're working with. Good electric fencing contractors assure you of higher affordability (without compromising in the quality).
To that, it's worth noting that electric fence has fewer operating costs. It's secured from precipitation impact; meaning, you don't have to worry about corrosion. It is highly durable and long-lasting, which adds to your cost-saving in the long-run.
Easy to Install and Highly Secure
Electric fence is quite versatile. It can be installed in parallel to the existing fencing structure or on top of it. A few strands at the top, middle and bottom are sufficient to prevent intruders from jumping over or crawling under. So, electric fence, thoughtfully installed around your property, offers a high level of protection, which is a big benefit.
Make Your Decision Today
If you have long been thinking about installing electric fence but have stalled it for whatever reason, it's time to make that decision. Top electric fence companies like SK Welded Mesh promise you the best quality electric fence that packs the right voltage and superior energizers, conductor and insulator. We assure to fit in your unique needs and requirements, and exceed your expectations. Connect with us today and stride forward to enjoy all the pros of installing an electric fence.