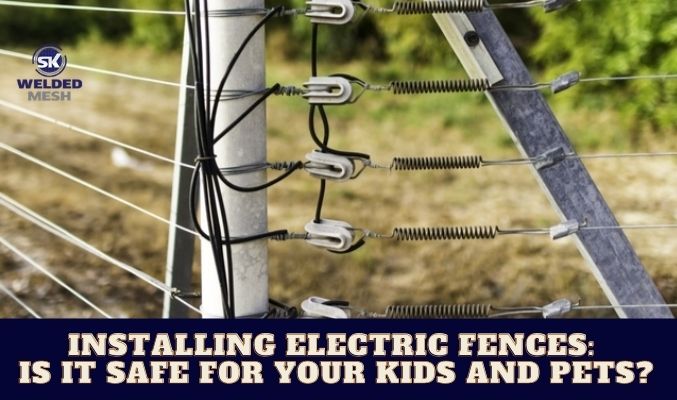 Installing Electric Fences: Is It Safe For Your Kids and Pets?
22 Jul 2020
Posted By S K Weldedmesh
Electric fences are a great option to secure your property. It provides higher safety – and, of course, the peace of mind that your family and belongings are safe.
In recent times, especially in areas that are more prone to criminal activities, a lot of people are opting for electric fences. Similarly, the housing societies that prioritize and promise maximum security to the tenants, even they trust electric fences atop.
In that trend though, there are several questions and concerns regarding these electric fences that surface often. One of them is whether or not they are safe for the kids and pets? The question makes sense. While these fences can successfully thwart off the intruders, can they also harm the kids and pets who can innocuously touch them if not on the watch? A quick answer to this is YES. But there are some caveats to it. Let's address them.
Installation and Volts (And Solar-Powered)
It's much more than just about calling a fence company in India and getting the installation done. There come different types of wire for the electric fence. Which one is apt for you depends on your exact need.
To that, you also need to consider various other factors in the process that's twined with why you're installing this electric fence in the first place. You need to consider the post type, energizer type, distance between the posts, number of strands, output voltage, and more.
Accordingly, you will have to make the right choice.
For example, solar fencing is very popular these days. It uses renewable solar energy, also packing plenty of other pros, like cost-effectiveness, lower maintenance cost, high reliability, and longer durability.
But then is the solar-powered fence right for you despite its wide popularity is a point that must undertake your needs and requirements. Talk to the fence manufacturer you're dealing with. Their experts can adequately assist you.
Now The Fact Is…
Of course, when someone touches the electric fence (regardless of the type), they would get a shock. After all, that's how you're planning to keep off the intruders. How severe will this shock be depends on all the factors that you are to consider, as mentioned above.
For instance, if the wire outputs 8,000 volts – and there are multiple electric strands of the wire – the outcome would certainly be very unpleasant and serious even if one touches it. But if the wire outputs 2,000 volts, the effect upon touching would relatively be easier.
(That said though, in either of the cases – 8,000 or 2,000 volts – there won't be any permanent damage. As long as you're keeping the volt within the permissible limit assigned by the law, you're fine.)
Anyone who touches the fence, whether your kids, pets, or you, will get jolted. They might not necessarily sustain fatal injuries, but it won't be a pleasing experience either. So, it definitely isn't safe and you're required to consider this fact ably in context to your kids and pets before installing these electric fences.
Taking the Precautions
After installation, you should take all precautionary measures to ensure your kids and animals are safe. For the starters, you don't want to install very high-power electric fences, unless it's required. Further, to be on the safer side, you can also choose to have only a few of the top strands electrified, which would be out of reach for your kids and pets.
All the while, keep a watch on your little ones. Teach them not to touch the fence. Remind them about it often. Similarly, don't leave your animals loose. Keep them tied; or keep a very close eye on them.
Address All Your Concerns
When you work along with top fence manufacturers in India like S.K. Weldedmesh, you're assured of not just superior quality electric fences that match your exact requirement but also end-to-end assistance that addresses each of your questions. You can talk to these experts regarding your concerns about kids and animals getting harmed with the electric fences. They would explain it to you much clearer and help you choose the right electric fence.