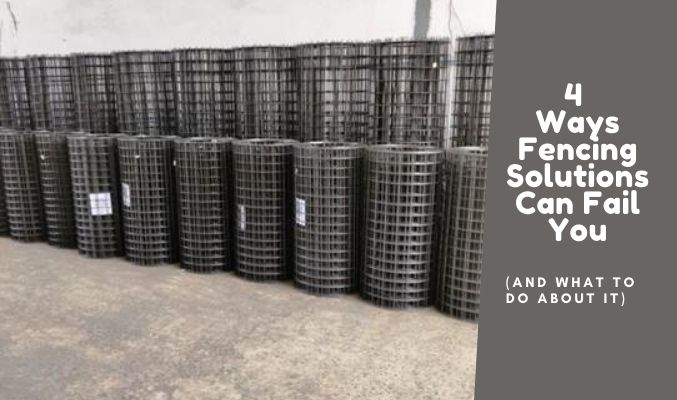 4 Ways Fencing Solutions Can Fail You (And What to Do About It)
08 Apr 2021
Posted By S K Weldedmesh
You installed a fence around your property for enhanced perimeter security. Now while you should ideally be comforted and assured following this measure, that's not a good idea. Yes, fencing is a great security solution. However, there are ways it can fail in providing you the required security, leaving you, your family, and your property vulnerable.
Here are four ways how fencing solutions can fail you – and what you can do about them:
1. Poor quality fence– When finding a fence company, many people prioritize price over quality. In that, they end up investing in fencing solutions that are poor in quality. Unsurprisingly, such cheap fences are easier to bypass for intruders. They have weak built that can break easily with some tools. It's important that you do adequate research to find a fence manufacturer or fence contractor that delivers superior quality products. It's about the security of your property and possibly the safety of your family; you don't want to compromise in quality.
Recommended Read: How to Find the Right Fencing Contractor?

2. Lack of proper maintenance– Fence requires proper maintenance to intact the quality and utility value. If not, their quality can degrade quickly, and hence, subsequently becoming weaker. This can leave big loopholes in the overall security of the premise. After the installation, after a period, your fence would need caring. Small measures can make a big difference in ensuring their quality and longevity.
Recommended Read: Fence Maintenance: 4 Tips to Ensure Your Fence Lasts Longer
3. No security features– In addition to overall quality, based on the type, the fence should have additional features or USPs that add to the security layer. For instance, you should look for fences that are anti-cut and anti-climb. If yours doesn't have such features, they may not provide you the kind of security you're looking for.
4. Old with significant wear-tear– Fence has a lifespan, depending on the type. After a point, it starts wearing down due to various factors. So, if you have had the fence installed years or a decade back, it might have run out of its course; it might not be strong or fool-proof enough. In such a case, you must get it replaced and install a new fence.
These are four ways fencing solutions can fail you in providing maximum security – and what you can do about it.
Also, if you're looking for enhanced safety on the property, understand that fence alone might not be sufficient. You should take other security measures as well.
Read this: Is Fence Enough to Provide You Foolproof Security?