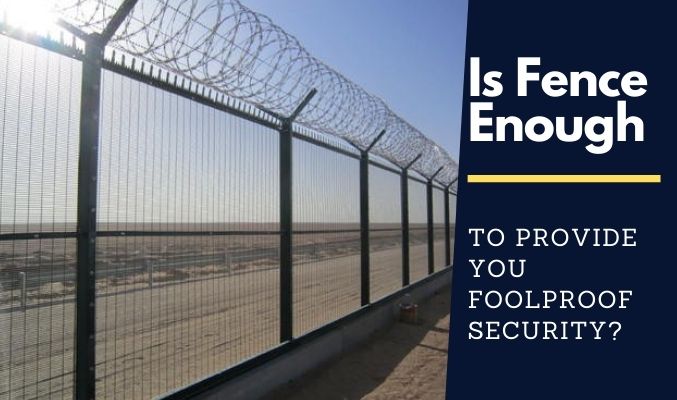 Is Fence Enough to Provide You Foolproof Security?
22 Oct 2020
Posted By S K Weldedmesh
The fence is usually a go-to for people in need for perimeter security solution – and it's a good thing, as well as bad. Good because they at least invested into ensuring better security; bad because that's where that investment (and security concern) ends.
Whether you're trying to secure your house, warehouse, factory or any other space, considering whether fencing is sufficient or not is important. In areas/cities where law and order are rigorous, and there are fewer safety apprehensions, a fence is legitimately enough. But then in other cases, it may fall short in deterring potential threats, leaving the perimeter vulnerable.
The Problem of Poor Quality Fence
Besides, if you're really serious about security, irrespective of where you live, it's always recommended – and preferred even – to take more measures and add to your fence. But even before that, the quality of the fence should be factored. Many people install fences just for the sake, choosing a poor quality option that can easily be bypassed; it can easily be cut or jumped over.
In priority, people must install only good quality fences. This is especially true today than ever when top fence manufacturers like SK Weldedmesh have upped their game in the quality department, deploying better practices, materials and production capabilities which superioritize their offerings. A fence, after all, is the first – and perhaps the most important – line of defense against intruders.
Adding More Layers of Security
Once you have a superior quality fence installed, you should ideally add more layers to your perimeter security efforts.
CCTV Cameras
Installing a CCTV camera is a very common measure. Not just commercial spaces but even the homeowners in India are opting for surveillance cameras, including the advanced ones that offer night vision, HD images and remote access. In fact, the Indian security and surveillance market was worth INR 8,200 crore in 2017, INR 11,000 crore in 2018. In 2020, it was expected to touch the INR 20,000 crore mark. But despite these huge numbers, given the expanse of our country, the adoption remains relatively low and should be encouraged more.
PIR Beam Sensors
PIR beam sensors is another measure that layers-up perimeter security efforts, adding more to the safety. The sensors measure infrared light radiating from objects in its field view. If it catches anything, an alarm is set off, alerting everyone of a possible intrusion or threat. And if this system is integrated into an IoT ecosystem, a lot more actions can be triggered automatically upon the detection of any intruder; like turning on the lights and clicking pictures by CCTV camera.
Please read: How is IoT Transforming the Security Market?
The Answer?
"Is fence enough to provide you foolproof security?"
Not necessarily. And this is more critical if you live in a city, town, or state that's known to have threats of intrusion, theft, and other crimes. Whether you're protecting your home, office, warehouse or any other space, you should always take every possible step to increase the security. This means taking more measures in addition to having good-quality fences installed. You should think of complete and integrated security solutions that have little to no loopholes. Consider talking to a reputed security solutions provider on how to you can step up your perimeter security efforts.