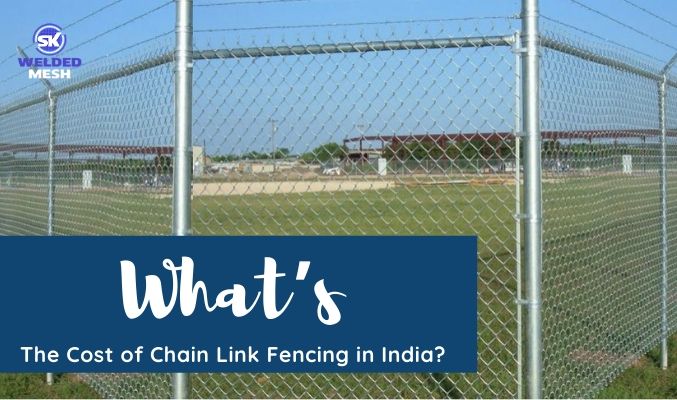 What's The Cost of Chain Link Fencing in India?
04 Jul 2020
Posted By S K Weldedmesh
If you're looking to fence your property, it's fairly obvious you'll have this question…
What is the cost of chain link fencing in India?
Unsurprisingly, the answer isn't standard. There are so many factors that influence the cost of fencing. And it isn't even just about the acres either. For instance, for those who have to fence 2 acres, the cost would vary for each of them based on the layout of the acre.
So, even when you go to a chain link fence manufacturer or contractor for quotation, they would fail to realize the accurate approximation without inspection.
What Factors to Consider in Estimation
1. The size of the property
2. Wire diameter
3. Post gap; the distance between the posts
4. Post design
5. Height of the fence
6. Type of chain link; galvanized or PVC coated
There are several other factors, small and big, that must have your attention.
You must also look at the neighbors and whether they've got the enclosureor not. If they have, how and whether to fence that side or not should also be considered; this can significantly impact your budget.
In addition, your location plays a big role here. In different cities and states, you will find various chain link fencing contractors charge differently. For example, places that are vulnerable (meaning, where installing fence is a must), the price would generally be higher comparatively. So, if you live in a town where the crime rate is high or you're a farmer who needs to fence the field, it would cost you more.
The Non-Quantitative Factors
The answer to your "what's the cost of chain link fencing in India" also has to do with several non-quantitative factors, which often gets overlooked.
Quality is very important in this segment.
If you're fencing your property for (real) security reasons, you would want the best quality chain link fence. And quality makes a big difference in the cost. If you're investing in superior quality chain link fence, you would have to spare more. The cheaper variations will have compromising quality. Moreover, with shorter durability, they would end up being an expensive deal in the long run.
Even in good quality, you will find contractors and manufacturers charging differently. Depending on the type of chain link fence, you will notice a big difference in their cost.
Ask the Right Questions (to the Right People)
So, the question"what's the cost of chain link fencing in India" isn't necessarily an appropriate question. There is no definite answer. This is something your contractor would be able to tell after inspecting the property and understanding your unique requirements.
You're better off asking some other questions – the right ones.
What kind of property that needs to be fenced?
What kind of quality are you looking for?
How will you find the right chain link fence manufacturer or contractor?
Ask the right questions, ask them to the right people, and get not just the answers but also the best chain link fencing solution that ideally maps to your exact needs.
In the end, you want to have a manufacturer by your side that cares about quality as much as you do; a manufacturerthat offers flexible customization options, adequately suiting your requirements.