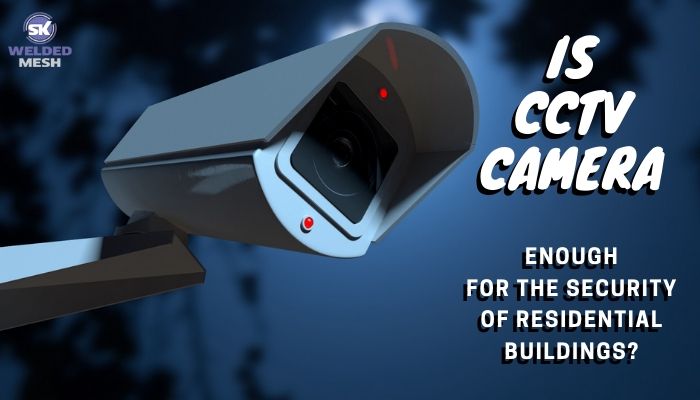 Is CCTV Camera Enough for the Security of Residential Buildings?
05 Jun 2020
Posted By S K Weldedmesh
The peace people find knowing there's a CCTV camera outside the building, securing them and their family – it could very well be negligence and reluctance towards security.
CCTV cameras are essential, but they are far from sufficient. In fact, with so many residential buildings still employing the old and outdated device to secure a large perimeter, CCTV cameras fall critically short in achieving the objective. With threats more than ever, it's essential that homeowners and secretaries amp the security of their buildings with newer technologies and better processes.
The first line of action is, of course, updating the old CCTV cameras – and installing more of them for 360 protection.
Better Surveillance Cameras
In recent times, there has been an influx of the types and varieties of CCTV cameras. Some of them are robust in design and pack rich features. And that's what you should consider investing in. Pick a powerful device that provides adequate surveillance round the clock. Focus on its quality over pricing. Ensure it has a large human detection range, comes with pan-tilt-zoom (PTZ) feature, outputs quality picture, and works in dark with night vision.
Electric, Anti-Cut Fence
Just installing a metal fence outside isn't ample. Such traditional fencing has fundamental flaws. For once, they are easy to climb over. Second, they can easily be cut. Criminals can work around these fences. Upgrading them is another important step you should take in securing your residential building. Invest in new-age fences that are anti-cut and have electric. They cannot be cut. Plus, when the intruders try, they are kept off with a powerful jolt.
Protection Against Viruses
Today, people need protection from more than just criminals. With health risks high now, one must take adequate measures to protect self and others from novel viruses. While it's not foolproof, there are a few steps you can take. More residents and building owners, in fact, are now investing in thermal screening devices. You should too.
Many CCTV cameras now come with thermal video output. Then there are hand-held thermal screening tools. By capturing different levels of infrared light, these devices can detect the temperature of the person. In case if their temperature is high, they can be barred from entering the building. This simple measure can make a big difference in keeping the residents safe from viruses.
Act Now
In addition to all that mentioned above, the residents and secretaries must also invest in skilling the security guards. How to monitor CCTV footage, what protocols to follow when someone's entering the building with high temperature, how to be vigilant during the night, and more – they must be adequately trained in these aspects.
Small steps in upgrading the security department of the building can add up to save lives. So, no, your CCTV camera might not be enough. You need more for higher protection of your residential building. Act today for that 'higher protection'.