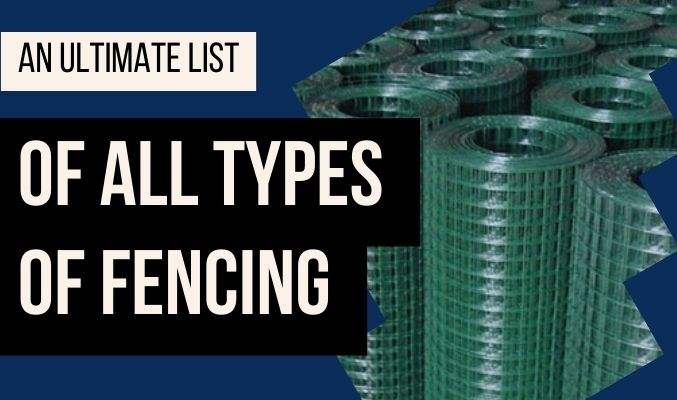 An Ultimate List of All Types of Fencing
19 Apr 2022
Posted By S K Weldedmesh
If you are looking for a fencing contractor, you may find yourself wondering what types of fencing exist. There are many to choose from. In the event that you have limited time and resources, or simply wish to simplify your search, the following information should give you an idea of the types of fencing available.
Welded Wire Fence
Welded wire fences come as panels or rolls that are ready for installation. They are easy to install because they come ready to use, but the disadvantage is that once installed, the size and shape are fixed. When used as perimeter fencing, welded wire fences provide safety and security while allowing for visibility through the fence. This makes it a good choice for security applications where visibility needs to be maintained.
Chain Link Fence
A chain-link fence is a great option for marking boundaries in your yard or around your commercial property within a budget. This type of fencing provides a high level of security and is available in several different heights and colors. You can also install one that has an electric gate opener which makes it easy to access your property yet keeps it safe from unwanted visitors.
Barbed Wire Fencing
Barbed wire fences have sharp points along the top, which makes them dangerous and difficult to climb over. This type of fence is commonly used to keep livestock in place, but it also has other applications for homeowners, like deterring intruders from entering a property. Barbed wire is available in different designs, such as single strand or double strand (barb on one side only). However, it's important not to use barbed wire fencing near areas where children might play because of its sharp points and how easily they could get hurt while climbing over it.
Wooden Fencing
Wooden fences are the most popular option for fencing, largely because of their appearance and affordability. They provide a natural, rustic feel to any home, though they can be painted or stained to complement your home's design. They're also the easiest type of fence to install yourself. However, since wood is a porous material, it can rot over time and will require regular maintenance to keep it looking its best. Rot can be prevented by choosing high-quality wood and applying protective treatments like sealant or paint.
Vinyl Fencing
Vinyl fencing is another popular choice because it has a higher resistance than wood to rot, mildew, cracking, peeling, and insects. Coming in different sizes, styles, and colors, vinyl fences typically last longer than wooden fences with less work on your part. They're also more affordable than other types of fencing like iron or aluminum fencing.
Aluminum Fencing
Aluminum fencing offers the beauty and protection of traditional wrought iron fencing without the maintenance requirements. Since there is no paint to scrape, rust, or flake off aluminum fences are virtually maintenance-free. Also, while solid privacy panels are available, the majority of aluminum fences feature widely spaced pickets that improve visibility through the fence. The pickets can be square, spade, or a number of other decorative patterns.
E-fencing
An electrified fence consists of a series of horizontal wires that are attached to vertical posts using insulators. The wires are connected to an electrical source and carry an electric current that delivers a shock when touched. While it can be used on its own, electrified fencing is often combined with barbed wire or mesh wire fencing to increase its effectiveness as a deterrent.
Steel Wire Fencing
Steel fencing is one of the most popular types of fencing for home and business owners because of its strength and durability. This type of fencing will be able to withstand damage from high winds, severe weather conditions, and other environmental factors. The steel wires are galvanized before weaving them together to create a strong structure that can provide security for your property. It comes in a variety of patterns and comes in several different heights depending on your needs.
Iron Fencing
Iron fencing is a type of fencing that is made from thin, malleable iron. It can be customized easily. Iron fencing can be used for a variety of purposes such as residential and commercial security, agricultural barriers to keep livestock secure, and even as decorative lawn or garden borders. It's important to note that there are several types of iron fences. Some are wrought iron while others are cast iron.
Final Words
When it comes to your fencing needs, consider all of your options. Whether you are planning a commercial fence or residential, there are many contractors that can assist you in getting the job done no matter which type of fencing you want and need. Allowing a professional to assist you in finding the right fencing for your home or business is much wiser than opting for the cheapest alternative.
::Audio Version::
::Direction::