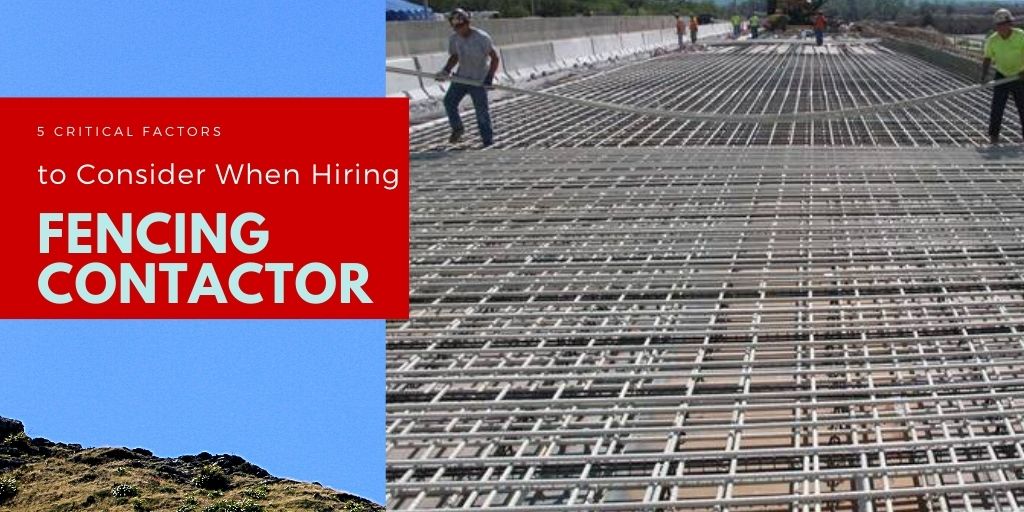 5 Critical Factors to Consider When Hiring Fencing Contactor
28 Jul 2020
Posted By S K Weldedmesh
Installing chain link fence around your property isn't a DIY thing. For the quality and desired outcome, it demands adequate skill and understanding. You need one of the good chain link fencing contractors by your side for that.
But then finding one such contractor is much more than just about Googling "chain link fencing contractors". There's a host of factors that must be considered so as to make a sound decision.
Here are five critical factors to deliberate when hiring a chain link fencing contractor:
1. (Relevant) experience
If you're really finicky about the quality of the work, you want to hire a contractor that has enough experience.
Not that the new contractors aren't good. But in such work, experience plays a vital role.
If the contractor is experienced, they are more likely to match or exceed your expectations.
In addition, also factor their experience in different types of fencing work. Ideally, you want them to have extensive familiarity with the kind of project you're about to hand them over.
There are, of course, many different types of fences and their installation work varies.
You don't want to end up with a contractor who has the experience of installing wood fences when you're looking for chain link fence installation.
2. Are they aware of fencing laws?
There are fencing laws; these laws might vary in different areas. You certainly don't want to erect a fence in a place where you shouldn't have. It will ensue needless legal troubles.
It's on to your fencing contractor to be aware of such laws, act within the confines, and help you avoid legal issues.
So, do ask them about their know-hows regarding fencing laws.
3. The quality of the fence
This is, of course, of foremost importance.
For the fence to have high utility value and greater durability, you want it of superior quality.
But then is your contractor using quality fence?
Many chain link fencing contractors usually opt for local-quality types which are more financially beneficial for them.
Unless you're sure of the quality of the fence they bring to the table, you're better of connecting with a chain link fencing company yourself to make your purchase.
Or you can ask your contractor to buy fences from one of the chain link fence manufacturers of your choice.
When it comes to quality, don't blindly rely on anyone else. Take that responsibility yourself to ensure you're investing in the best.
4. Cost of workmanship
This one will unsurprisingly influence your decision in a big way. And rightly so!
Now know that quality workmanship does come with a cost. Don't expect to get it cheap.
But at the same time, it doesn't have to be very expensive either.
A large part of the cost will depend on the type of fencing work you're getting done.
So, connect with more than a couple of chain link fencing contractors. Discuss with them the cost of installation. Pick one that fits your budget.
5. A Defined Timeline
Especially if the cost of contractors' service is based on the number of days they would be working, you want to wrap things as quickly as possible.
So, before you finalize on any contractor, ask them how long will it take. Make sure they give you a proper timeline. Only go ahead with them if that timeline suits your expectations.
Conclusion
Indeed, there are plenty of other things that must be factored when you're hiring one of the good chain link fencing contractors.
The process in itself doesn't have to be so complex and difficult. After all, it's just a matter of installing a fence.
But if you're looking for a good quality fence that's worth every bit of your money, you do want to keep your eyes open, consider various elements, and be smart in decision-making.