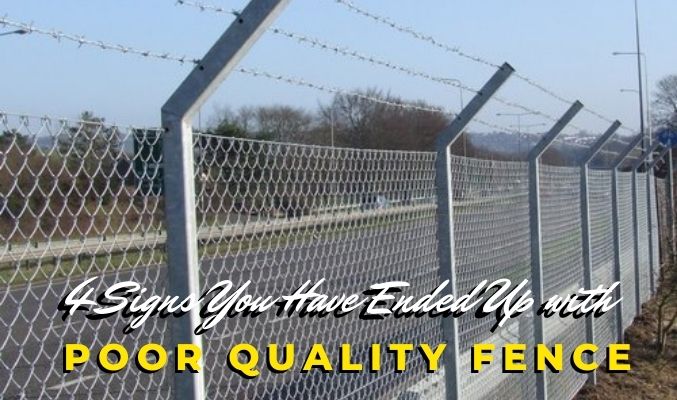 4 Signs You Have Ended Up with Poor Quality Fence
23 Sep 2021
Posted By S K Weldedmesh
You purchased the fence from a "good" fence company. You got it installed soon. You thought that's a job well done BUT what if the quality of that fence is compromised?
While you were assured of the quality, did you really get that?
Did the manufacturer care about quality just as much as you did?
Or, did you just end up with a poor-quality fence for which you spent more than you should?
Unless you have extensive experience with this, identifying the quality of fences can be a challenge. The foremost mistake many people make is settling with a less-known fence company, which eventually leads them to poor quality fences. (And this is a critical mistake especially if you have fenced for security purposes. After all, with your and your family's security, a fence with compromised quality is the last thing you want!)
Here are four signs you have ended up with poor quality fence:
1. Bad installation work
Sometimes it isn't necessarily the quality of the fence itself but rather the installation work.
If the fence contractor hasn't done a good job in installation, it will clearly reflect imperfectly on the quality and utility value of the fence.
For instance, if the posts haven't been positioned properly or if the mesh isn't tight enough, the objective of the fence could be rendered ineffective and waste.
So, for the quality of your fence to remain intact, the installation work has to be ace in every aspect. Even a little bit of lag may hurt the longevity of the fence and thereon its quality.
2. There's already wear-tear
It hasn't even been a year and you're already noticing wear and tear in the fence as a result of rusting. (Note that while rusting is common, it shouldn't catch up to the fence so quickly!)
In reality, good quality fences with proper coating can easily last up to a decade
If there's damage to your fence so soon, it underlines poor quality and thus poor longevity.
3. You realize it was a wrong decision
You thought six-feet fencing would be sufficient to keep your property safe. Not that it is installed, you realize how it's incapable and that you should have gone with a ten feet fence.
This is a common occurrence, prevalent when you don't have an expert supervision.
If this is really the case, you have very evidently ended up with a poor-quality fence.
4. You got it from a bad fence manufacturer
As mentioned earlier, buying the fence from an unknown, unreputed fence company is a mistake.
So, who did you get the fence from?
Further, who installed the fence? (Installation work may have been poor, which could reflect poorly on the quality of the fence.)
If the manufacturer is not well-known and has even received bad reviews from other customers, you may have made a mistake teaming up with them.
Final Words
These are some of the common signs that your installed fence could be of bad quality.
In that case, take prompt measures to get it replaced with something of superior quality. This time do proper research to find a reliable and reputed fence manufacturer.
At the same time, right from the go, take steps towards fence maintenance.
Read: Fence Maintenance: 4 Tips to Ensure Your Fence Lasts Longer