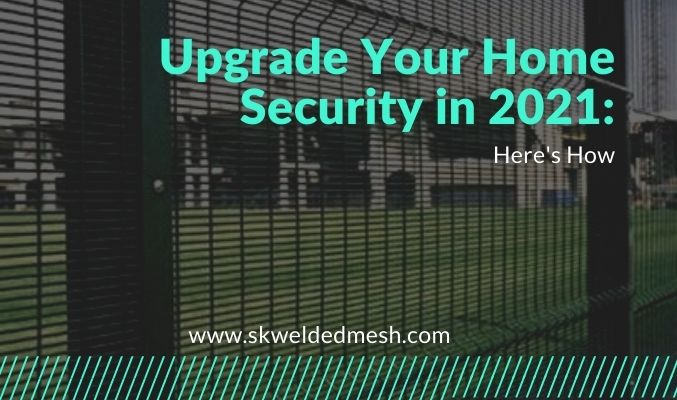 Upgrade Your Home Security in 2021: Here's How
03 Jan 2021
Posted By S K Weldedmesh
Did you know in 2017, in India, a robbery, burglary or break-in took place in residential premises every 3 minutes?
With the number that high, even when you think you live in a relatively safe city or neighborhood, you must still take adequate measures to secure your house – and family against such crimes.
This new year, attend this requirement by upgrading your home security.
Remember, home security is much more than just about installing one CCTV camera at the door. There are many loopholes that intruders can exploit and bypass. It's your responsibility to identify these loopholes and plug them with the right measures.
In that context, here are five tips to upgrade your home security in 2021:
1. Understand your security needs– Thoughtlessly purchasing security equipment is a bad idea. Instead, the first step is to audit your home security situation, understand different aspects, and then make informed decisions. So, do take your time to outline your security needs. What steps you have already taken? What more you need to take? Figure that out and work accordingly to improve your home security.
2. Invest in better quality CCTV camera– CCTV security camera shouldn't be installed for its sake. It's an important part of the home security ecosystem. This is why installing any camera won't make the cut. You need the right quality CCTV camera that's built robustly to provide maximum security; something that has good features, like high resolution, constant recording, remote access, night vision, wide-angle, and more. If your existing CCTV camera doesn't have such key features, it's time to replace it. (And while you're at it, try to install more than one CCTV cameras if needed.)
3. Install better quality fence– If you live on a separate property (not apartments, but like a bungalow), this is a must. Again, the fence shouldn't be installed just for the sake. It must be of superior quality to thwart any attempts of intrusion. So, do check the quality of your existing fence. Is it strong enough? Does it have the right properties? Is it in good condition? If there's a need to install a better quality fence, connect with a good fence company that cares about quality just as much as you do. Find one of the good fence manufacturers that has a good catalogue.
4. Get rid of "criminal magnet"– There are a few factors that make a property more prone to crime-attacks. For instance, if the street outside your home doesn't have proper lights, it will attract criminals. Similarly, if there are places outside your property where a person can hide behind, that's not good either. Also, if your house has lots of open space, that can be just as bad. So, find out what can attract criminals to your house and aim them in their attempts, and then get rid of those "magnets".
5. Think like an intruder– Get inside their head and try to find loopholes in your security measures and preparations. Do you find any flaw? Do you see ways how one can break and entire your house? Are they any loopholes that can be exploited to invade your property? Thinking from a criminal perspective can really help you get insights on what's missing in your home security arrangement and what more you can do to improve it.
These are five tips to help you upgrade your home security in 2021.
This is one thing you don't want to lag in. It's about the safety of your house and family. Get serious about it, make necessary improvements, and ensure maximum security.