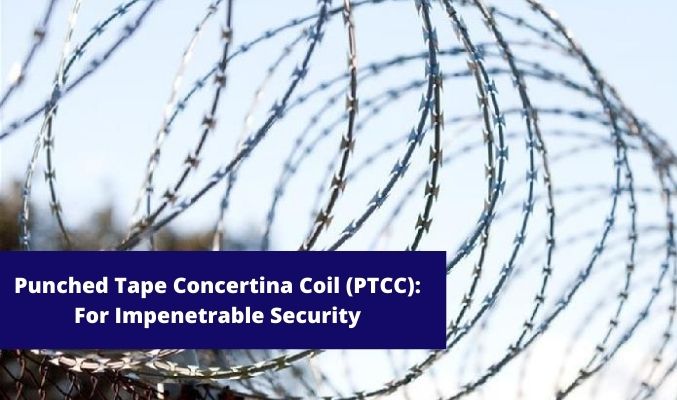 Punched Tape Concertina Coil (PTCC): For Impenetrable Security
28 Dec 2020
Posted By S K Weldedmesh
With high tensility and sharp edges, Punched Tape Concertina Coil (PTCC) stands as an epitomized option when it comes to perimeter security. The coils are used by everyone who demands higher security – from airport to factories to government buildings. It is also employed in the residential sector by high-end housing societies and bungalows. So, if you're looking for greater security as well – whether on your residential property or to secure your commercial space – PTCC might just be the perfect fit.
Superior in Every Aspect
Punched Tape Concertina Coil is made of hot-dip GI wire. Its unique built adds to its property, making it more effective and durable despite the harsh weather. It won't get easily damaged. Furthermore, since the material touts high tensile strength, it can be cut using pliers or any such tool. One of the pros of these coils is, unlike others, not only it prevents unwarranted entry on a property but it even injures or harms the person in question if any such attempts are made thanks to the sharp edges.
When the Benefits End
But all said, it's worth mentioning that the benefits of Punched Tape Concertina Coil are only optimal when the production quality of the coil itself is at par. Different fence manufacturers offer different quality of concertina coils. Unsurprisingly, some are better than others, while others are ostensibly poor. The one built using poor-quality materials, outdated practices, and insufficient production rigor – it inevitably fails to provide the required security. Moreover, it renders ineffective or too weak in a relatively quicker span.
Find the Right Manufacturer
So, it's essential that when you're buying Punched Tape Concertina Coil, you must keep an eye on the fence company in India itself and how high it prioritizes quality. You want to pick a manufacturer or supplier that cares about quality just as much as you do.
Similarly, the installation of the fence plays just as big of a role in its effectiveness in providing security. If poorly installed, intruders may figure out ways to bypass it one way or another. Thankfully, the installation isn't too much of a task. What more, Punched Tape Concertina Coil is quite easy to maintain, which adds to its list of pros.
If you're looking for higher security on your property, PTCC or barbed wire is definitely one of the best choices. But before you rush to the installation, it's important to do the necessary research so that you're well-informed and sufficiently educated. In addition to PTCC, depending on your unique needs and requirements, can also choose from other fencing solutions that are effective and affordable. Talk to a good fence company in India, discuss your needs, address all your queries, and get your quote for Punched Tape Concertina Coil.