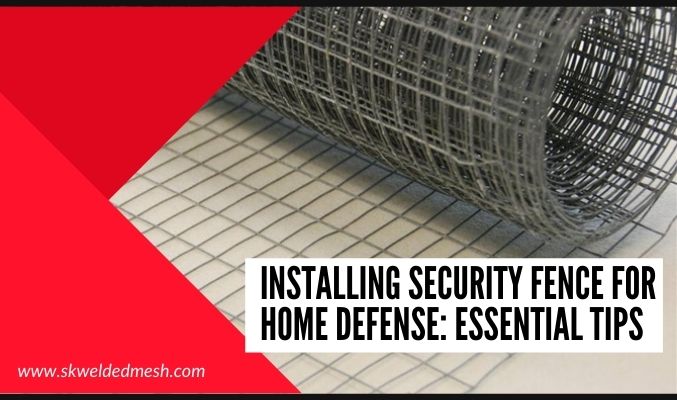 Installing Security Fence for Home Defense: Essential Tips
03 Jul 2021
Posted By S K Weldedmesh
The whole approach shifts when you're installing fences around your house for security reasons and not for aesthetic purposes. You now need to consider new factors, as well as ideally increase your budget. After all, when it comes to your family's safety, you want to spend adequately in home defense for fool-proof arrangements against all potential risks and threats.
Understand the risks, obey the local laws
Imagine you spend so much of your money installing the fence and a few days later your local authorities come to inform you that your fence oversteps the boundary of the property. Or, imagine your neighbors taking legal actions against you for allegedly installing the fence on the parts of their land.
These issues arise; they are more common than you may realize. So, it's important that you understand all the risks of things going wrong before getting the work started; ensure you're clear on every aspect.
Similarly, many laws prevent installing fences beyond a certain height. There are rules on installing electric fences. So, take note of the local laws as well and obey them. Consult the local authorities and make sure you have all the necessary permits and clearances.
Be Clear on the Basic Requirement
When installing a security fence for home defense, there are some fundamental requirements that you should prioritize.
1. One, the fence should be of superior quality and strong enough. It should be made of good material. Metal and wire mesh fences are the two most popular and recommended security fences. Find a good fence manufacturer that's reputed and known to offer superior quality fences.
2. Two, the fence should be of proper height so that people can't climb over it. Again, different places have different laws and regulations around how high the fence could be. So, do check with your local authorities. You need a fence of at least 8 feet.
3. Third, make sure the fence is built robustly that has anti-climb, anti-cut capabilities (like horizontal lanes and pointed top with possibly barbed wire. Criminals are now more sophisticated than ever. They have the right tools to bypass fences. So, it's essential that you ensure the fence you're installing cannot be cut or climbed over.
4. Fourth, the fence shouldn't create hiding spots for criminals. It should be transparent or see-through where you can see the other side easily.
These are four basic requirements you should keep in mind when planning to install a security fence for home defense.
Of course, there are several dos and don'ts to the process as well. Like, do attend to the minor details and don't overlook the aesthetic side of the fence; don't ignore the quality of the gate, and do have an integrated home security system wherein you're relying more than just on your fencing.
In the end, don't get flummoxed by the process. But, at the same time, don't get reluctant either. Connect with a good fence company for superior quality fences, hire an experienced contractor, and get the work done properly.