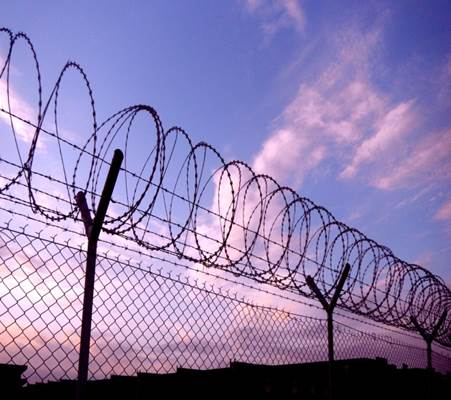 A Fencing Guide for Companies to Amp their Perimeter Security
14 Feb 2022
Posted By S K Weldedmesh
Fencing is the most obvious of physical barriers and is commonly used to enclose the private property and public facilities. Fences for security purposes usually consist of panels or slabs of strong, durable, and rigid materials such as wood, metal, masonry, and concrete which may be supplemented by barbed wire or razor-sharp wire and are designed to prevent intruders from accessing a specific area. There are many different designs available.
Here are different types of fences:
1. Wire mesh fence
Wire mesh fences can be used in a wide range of applications, ranging from simple protection against wild animals to high-security fencing. Their use is usually limited to the prevention of a deliberate entry by unauthorized persons.
The wire mesh fence is available in a number of different versions. The most common types are knotted and welded mesh, which are mainly distinguished by the way they are manufactured and the material used. Welded mesh is produced on an automatically controlled welding machine and thus involves less labor than knotted construction.
The wire mesh fence is available with or without tensioning wires arranged at regular intervals between the posts. If this type of fence is used as an obstacle, it generally has tensioning wires to increase its stability. Since it must be installed on a flat surface, this type of fence is mainly used for securing large areas and for protecting natural spaces from animals.
2. Bar grating fences
Metal bar gratings for fences are made from flat bars and round bars. Round bars are twisted together and welded to the crossbars. In this way, a very flexible fence is created. The fence is produced in panels that are connected on site using clamps.
The panels of the fence can be adapted to suit the site, e.g. with a curved shape. Panels can also be turned around so that the curved top matches the contours of the ground.
Bar grating fences are generally used in public areas, for example as school fencing or playground fencing, but also as an industrial enclosure fence or as a perimeter fence around private property.
Bar grating fences can be combined with any type of post. For example, they can be combined with round posts (galvanized or stainless steel) as well as rectangular posts. The bar grating is mounted on the posts using special mounting brackets (e.g. for stainless steel fences).
3. Front guard fence
The term front guard fence describes a number of different types of fences. They are very often used in industrial settings and rarely as private fences. Front guard fences are predominantly customized and depending on the requirements consist of welded tubular profiles. Front guard fences are often more mechanically stable than bar grating fences and are generally more appealing due to their customized design.
The most common type of front guard fence consists of a square or round tubular profiles with a diameter of 2-3 cm. These profiles are welded together in the form of a grid, whereby two-dimensional diagonal elements can be added for additional stability. A particular feature is that these fences can be designed with a gap between individual profiles in order to allow a visual exchange while still protecting against climbing up or breaking through.
4. Other fences
Other types of fences are expanded metal fences, waved grate fences and wooden fences.
a. Expanded metal fences were very popular in the past but are now hardly ever used since they offer little protection and do not form any serious obstacle to intruders.
b. Waved grate fences are usually made of thick steel wire and welded into an intermediate frame. The intermediate frame can be welded onto a round or rectangular post, or onto a flat foundation plate. Waved grate fences are mainly used for decorative purposes in gardens, on walkways, etc., where no specific security requirements have to be met.
c. Wooden fences are often used as supplementary elements to other types of fences. They are frequently found in combination with concrete or steel palisade fences.
Final words
The mentioned are some of the types of fences that organizations, factories can use to safeguard against intrusions and other forms of crimes. However, which type would be an ideal fit for them largely depends on their distinct perimeter security strategy, budget, location, size of the property, crime rate in the city, and other relevant factors. So, identify your needs first; subsequently, choose the right type of fencing.