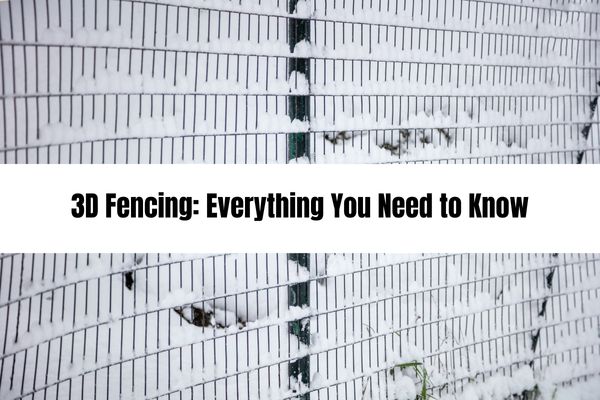 3D Fencing: Everything You Need to Know
25 Feb 2023
Posted By S K Weldedmesh
3D fencing, also called three-dimensional fencing, is a type of fencing that has a unique and eye-catching design. Unlike traditional fencing which has a flat and uniform look, 3D fencing features a three-dimensional design that adds visual interest and aesthetic appeal to a property.
3D fencing is used for privacy screens, property lines, or to improve the appearance of a property. It can have different design elements such as lattice work, geometric shapes, or decorative accents. With its unique design, 3D fencing can add beauty and character to any property, making it a good choice for enhancing a home or commercial space.
How is a 3D fence made?
3D metal fences are typically made using materials such as steel or aluminum. The metal is shaped and molded into intricate designs, creating a three-dimensional appearance. This is achieved through a process of cutting, bending, and welding the metal into the desired shapes and patterns.
The result is a unique fence that adds both security and aesthetic appeal to a property. The metal is then coated with a rust-resistant finish to ensure its durability and longevity, even in harsh weather conditions.
Features of 3D fence
1. 3D fence is known for its distinct, visually captivating design that increases the aesthetic appeal of any property.
2. Constructed with materials like metal, steel, aluminum, or wrought iron, it promises durability.
3. Its design can be customized to feature lattice work, geometric shapes, or decorative accents.
4. It adds a touch of elegance and personality to any property.
5. It helps provide privacy and outlines property boundaries.
6. Not only does it enhance the overall look of a property, but it is also suitable for both residential and commercial settings.
7. It can be tailored to match the style of the property or harmonize with the surrounding environment.
Should you install a 3D fence?
Whether you are looking to define your property lines, provide privacy, or simply enhance the overall appearance of your home or commercial space, 3D fencing can offer the perfect solution. Also, with its durable materials, including metal, steel, aluminum, or wrought iron, a 3D fence is designed to withstand harsh weather conditions and provide long-lasting performance.
Connect with a fence manufacturer
If you're considering installing a 3D fence, it's important to find a reputable manufacturer to ensure the highest quality of materials and workmanship.
A well-made 3D fence can provide added privacy, enhance the appearance of your property, and last for years to come. By working with an experienced manufacturer, you can choose from a variety of designs and materials that fit your style and budget.