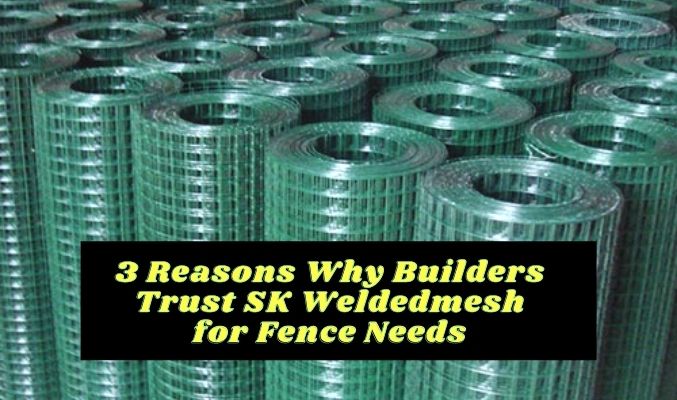 3 Reasons Why Builders Trust SK Weldedmesh for Fence Needs
05 Nov 2021
Posted By S K Weldedmesh
A building is only as good as its structural strength. If its aesthetic is affluent but the construction has gaps, it's of no use. People would rather be in a strong building than a weak one that's "good looking".
Welded wire mesh reinforces concrete structures, adding to their rigidity and thereby longevity. A well-built building can easily last for 60 years, requiring only minor fixes every once in a while. And this is true despite the harsh weather and some calamities.
This is why it's critical for builders or construction companies to land on superior quality reinforcement mesh, which can be capably be used in concrete slabs. This means working with a good fence manufacturer is essential to ensure superior quality concrete structures that keep the people within safe and last much longer.
SK Weldedmesh: Trusted by Builders
SK Weldedmesh is one of the leading fence manufacturers, also offering reinforcement mesh. It is one of the most preferred names for builders in West Bengal, neighboring states, and across the country.
Here are three reasons why construction companies trust SK Weldedmesh for their reinforcement needs:
1. State-of-art manufacturing capabilities
One of the things that separate SK Weldedmesh in the crowd is its advanced manufacturing capabilities that complement the latest and best practices.
With a cutting-edge infrastructure that's equipped with the best facilities, SK Weldedmesh ensures superior quality and consistency in its reinforcement mesh and other offerings.
Furthermore, irrespective of your quantity requirement, the manufacturer ensures timely delivery and prompt fulfillment even for urgent requirements.
2. Quality assured
SK Weldedmesh boasts a high customer retention rate. And of the reasons for that is its commitment towards quality, assuring the construction companies of nothing but the best.
So, if the quality is your biggest priority, which it should be, SK Weldedmesh won't disappoint you. Rest assured of the finest quality reinforcement mesh (conforming to IS 1566) that helps you build strong structures.
3. The right pricing
Quality doesn't have to be expensive. Not at least if you have SK Weldedmesh by your side.
The manufacturer ensures quality at an affordable price. Further, additional discounts for recurrent or bulk order sweetens the deal.
So, save on your construction cost by procuring reinforcement mesh at a relatively affordable cost.
Final Words
Whether it's a residential building or commercial structure, irrespective of your architectural requirement, SK Weldedmesh has got you covered.
Connect with its team today and discuss your requirements or seek more information. Get a free quote from here.