The properties like High bearing capacity with a low specific quantity of metal, great aesthetic appearance, no additional reinforcement ribs makes it a perfect material to use for making walkways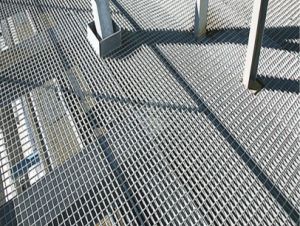 Ability to take any geometrical forms, durability, quick interchangeability, environmental safety, and low cost. A grating consists of a combination of bearing bars that give the grating its strength, and filler/control bars. Thus, acting a great replacement for general steel plates removing the dead weight from stair cases.
The Specialty of air and water permeability, no moisture or dirt accumulation at the surface and quick mounting are used to make gratings for drainages.